Pool Repairs Fort Myers Beach
From leaks, to noisy motors, to circulation problems, issues can arise quickly. If you are experiencing problems with your pool, contact Gully Pool Service and Supply for pool repairs in Fort Myers Beach. We want to help ensure your pool is functioning properly. That is why we provide pool repairs in Fort Myers Beach and surrounding areas. Pools can last for a very long time if they are properly cared for.  It is very easy to let your pool responsibilities fall to the way side.  Before you know it, your beautiful pool can have many issues arise. Taking care of repairs right away is the best thing you can do.  If you notice a problem, don't delay and give us a call for pool repairs in Fort Myers Beach and surrounding areas.  This can prevent a minor repair from turning into a major repair.  Gully Pool Service and Supply has been offering pool repair service in Fort Myers since 1959, you can count on us.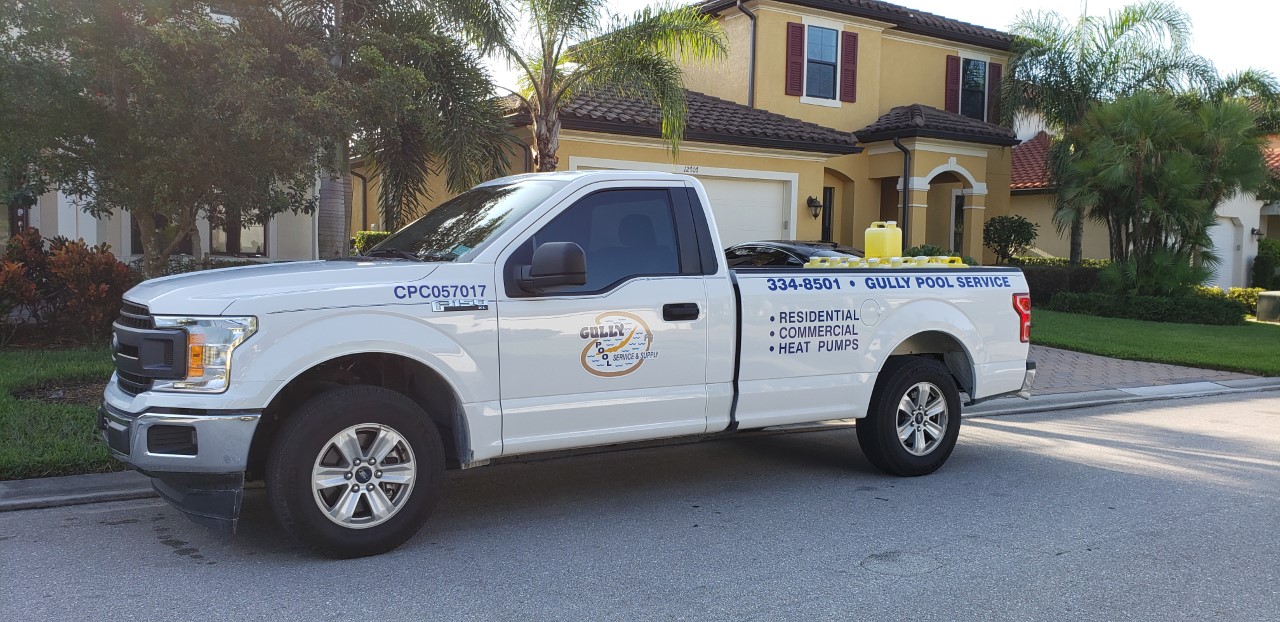 Our trained pool technicians can assist you with any major or minor pool repair!
We Can Help With All of Your Repairs!
Motor Replacement
Pump Repairs
Filter Repair
Heater Installation
Pipe & Fittings Repair
Pool Light Replacement (Without Draining the Pool)
Leak Detection
Stain Removal
Pool Finishes Patched
Fiberglass Repair
Pool Refinishing Available
Swimming pool repair can refer to things like cracks in the pool walls, motor replacement, heater installation or poor filter and pump systems. These types of problems require a professional. Pool repairs can turn into a costly problem, so act now and let us help you.
How long do pool pumps last?
Your pool pump is the "heart" of your swimming pool. Often times when your pool pump malfunctions you can have the broken piece replaced without having to buy an entirely new pump. However, you should have your pump replaced entirely anywhere between 8 to 15 years depending on the quality.
Pool Leak Detection
Gully Pool Service and Supply is your go-to expert when it comes to pool leaks. Our team of experts provide comprehensive leak detection assessments to pinpoint the problem using state of the art ultrasonic equipment. Combined with pressure testing and dye tests, our team at Gully Pool will find your problem and fix it. For commercial and residential pools, we have the experience to get your pool filled back up properly.
New Customer Service Plans
No Contracts • Short Term • Seasonal Residents
Winter Service while you are here / Summer Service while you are gone
---
1 – Chemical Check Only – Every Other Week
• Maintenance not included
---
2 – Chemical Check Only _ Every other Week
• PLUS: 1 filter cleaning per month
---
3 – Weekly Service
• PLUS: 1 filter cleaning & 1 vacuum cleaning per month
---
4 – Weekly Service
• PLUS: Vacuum cleaning each time & filter cleaning when needed
Request a Free Quote Now!
Our Pool Service Areas
Fort Myers – Cape Coral – Sanibel – Fort Myers Beach – North Fort Myers
and Surrounding Area